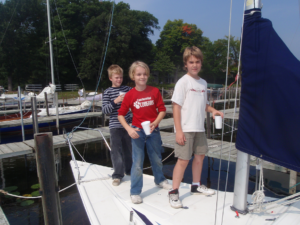 Ages 7 – 15
 Sailing lessons will be held at Lake Pleasant beach in North Oaks.
An ASA-Certified Sailing Instructor will be onboard each boat, sailing with students. Your child will learn to sail a centerboard scow sailboat. Students will learn basic sailing safety and 6 sailing knots. Students will learn to tack, jibe, pick up an item in the water while under sail and will learn to right and board their boat after capsize. Sailing games and fun will accompany each lesson.  Life jackets are provided, and required, though students are welcome to bring their own life jacket. Monday class starts with a swimming test while wearing a life jacket.
Each student will receive a sailing instruction book. Instructors will provide knot jigs for practice on rainy days and for beach games. In case of rain, lesson will be held at a nearby indoor rec center. Students should wear a swimsuit and bring a dry change of clothes for each session.
The program fee is $279 per student for either the morning or afternoon session for North Oaks residents. Students may sign up for both the morning and the afternoon session. The fee for non-residents is $304 per student. Each session is 15 hours total.
June 24-28       8-11AM
June 24-28       12-3PM